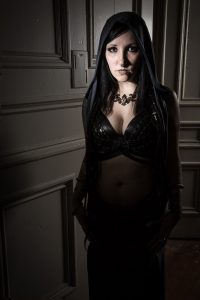 (This is part of a series of mini posts about the collaborators from the new album Silicon Wakes Up)
Raven Ebner is a performance artist in the California Bay Area. Her surrealistic macabre style can be seen in her characters and performances, as she combines organic as well as scientific influences. Her work can sometimes cause subtle discomfort in viewers, as she plays with the line between compelling and repelling. This is what drew us to cast Raven as the humanoid creature in the music video for "Silicon Wakes Up".
In addition, Raven produces jewelry, headdresses, and other art on commission. For more information on her many artistic endeavors, check out her website Deathvine.