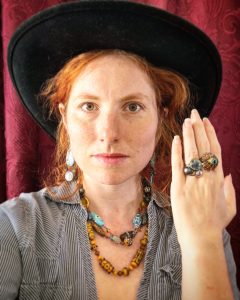 (This is part of a series of mini posts about the collaborators from the new album Silicon Wakes Up)
Alexis Berger is a visual artist who works in multiple disciplines. Previously, she has designed glass jewelry for both Emily and Ryan to wear for Chance's End. She has recently started consulting with Chance's End as Artistic Director of their music videos. For the video for "Silicon Wakes Up", Alexis designed and implemented the overall look of the props and makeup.
Alexis recently curated a rare show of her drawings and paintings in California, and she continues to produce and sell glass art and jewelry through her Etsy page.